Welcome
MoneyAge Awards
Celebrating excellence within the personal finance space
The winners were announced at a celebratory gala dinner on Thursday 13th October at the stunning Millennium Hotel, London Mayfair. Over 200 guests attended the event hosted by Alun Cochrane. Currencies Direct, Nationwide and Emerald Life were amongst the winners on the night with Nottingham Building Society and SportsAid taking the trophy for Best Charity Partnership of the Year.
Save the date
Money Age Awards 2017
Thursday 12th October 2017
Millennium Hotel, London Mayfair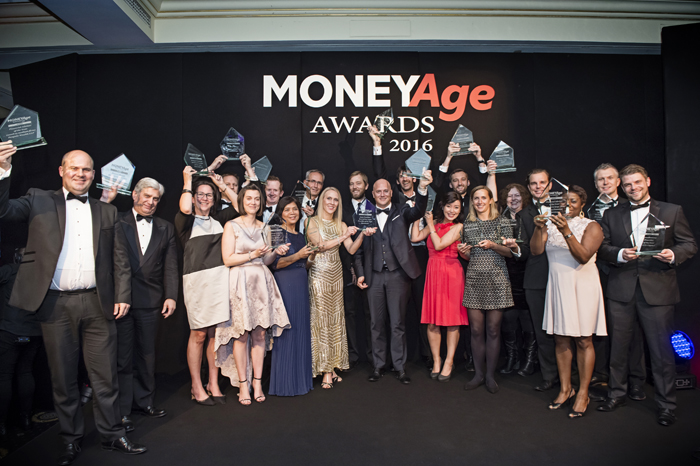 For the latest news and updates follow @MoneyAgeAwards #MoneyAge on Twitter
"Fantastic work from all @UKdeVere in winning the #MoneyAge Highly Commended IFA of the Year firm #success#awards" – Kevin White
"Proud to have been awarded #pension provider of the year this evening! #MoneyAgeAwards#MoneyAge" – NEST
"We won... http://bit.ly/2ecLJvq@crowdcube awarded 'Innovation in Consumer Finance' via #MoneyAge #crowdfunding #EquityCrowdfunding" – Michael Wilkinson
"Congratulations to @YourEmeraldLife for winning the Ethical Financial Services Provider of the Year! :) #MoneyAge Awards 2016" – Transactor
"Congratulations @YourEmeraldLife - fantastic news! #MoneyAge" – ANV Insurance
"We were the highly commended National IFA of the Year at the #moneyage awards! Well done all in the company!!! #success" - deVere UnitedKingdom
"We're proud to have won the 'Money Transfer Provider of the Year' award at #MoneyAge last night!" – Currencies Direct
Brought to you by Perspective Publishing (established 1994), a specialist financial publisher that runs 14 awards events including the highly successful Pensions Age Awards, Charity Times Awards, Better Society Awards, European Pensions Awards, Commercial Insurance Awards and much more, the MoneyAge Awards have been launched to celebrate excellence, professionalism and innovation in the hugely competitive but critically important personal finance space. Honouring the banks, building societies, savings and investment providers, mortgage companies and personal finance specialists that have proved themselves ahead of the game in the field of consumer finance with their product provision, innovation, focus on value and customer service, these awards are free to enter and are open to any financial services provider which serves consumers in the UK. The entries will be judged by an independent panel of highly experienced judges spanning the various fields of personal finance.
Partners include: